Amazon's sick brutality and secret history of ruthlessly intimidating workers
You might find your Prime membership morally indefensible after reading these stories about worker mistreatment
From Salon.com, February 23, 2014
Written by Simon Head
Excerpted from the book "Mindless: How Smarter Machines are making Dumber Humans"
When I first did research on Walmart's workplace practices in the early 2000s, I came away convinced that Walmart was the most egregiously ruthless corporation in America. However, ten years later, there is a strong challenger for this dubious distinction—Amazon Corporation. Within the corporate world, Amazon now ranks with Apple as among the United States' most esteemed businesses. Jeff Bezos, Amazon's founder and CEO, came in second in the Harvard Business Review's 2012 world rankings of admired CEOs, and Amazon was third in CNN's 2012 list of the world's most admired companies. Amazon is now a leading global seller not only of books but also of music and movie DVDs, video games, gift cards, cell phones, and magazine subscriptions. Like Walmart itself, Amazon combines state-of-the-art CBSs with human resource practices reminiscent of the nineteenth and early twentieth centuries.
Amazon equals Walmart in the use of monitoring technologies to track the minute-by-minute movements and performance of employees and in settings that go beyond the assembly line to include their movement between loading and unloading docks, between packing and unpacking stations, and to and from the miles of shelving at what Amazon calls its "fulfillment centers"—gigantic warehouses where goods ordered by Amazon's online customers are sent by manufacturers and wholesalers, there to be shelved, packaged, and sent out again to the Amazon customer.
Amazon's shop-floor processes are an extreme variant of Taylorism that Frederick Winslow Taylor himself, a near century after his death, would have no trouble recognizing. With this twenty-first-century Taylorism, management experts,
scientific managers,
take the basic workplace tasks at Amazon, such as the movement, shelving, and packaging of goods, and break down these tasks into their subtasks, usually measured in seconds; then rely on time and motion studies to find the fastest way to perform each subtask; and then reassemble the subtasks and make this "one best way" the process that employees must follow.
...
In December 2009 Mark Onetto, chief of operations and customer relations at Amazon and a close collaborator of Bezos, gave an hourlong lecture on the Amazon Way to master's of business administration students at the University of Virginia's Darden School of Business. Onetto is a disconcerting figure, because once he starts talking, style and substance are in sharp contrast. He is French born, and he still speaks with the rather faded insouciance of Maurice Chevalier and "Gay Paree," and he makes much of this in his lecture. But there was nothing gay (in the traditional sense) or insouciant about the Amazon workplace that Onetto described for UVA's MBA candidates.
Like most such corporate mission statements, Onetto's uses a coded language that hides the harshness of his underlying message, which needs translation along with a hefty reality check. As with Walmart so at Amazon, there is a quasi-religious cult of the customer as an object of "trust" and "care"; Amazon "cares about the customer," and "everything is driven" for him or her. Early in the lecture, Onetto quotes Bezos himself as saying, "I am not selling stuff. I am facilitating for my customers to buy what they need."
...
Whereas some Amazon employees are in constant motion across the floors of its enormous centers—the biggest, in Arizona, is the size of twenty-eight football fields—others work on assembly lines packing goods for shipping. An anonymous German student who worked as a temporary packer at Amazon's depot in Augsburg, southern Germany, has given a revealing account of work on the line at Amazon. Her account appeared in the daily Frankfurter Allgemeine Zeitung, the stern upholder of German financial orthodoxy and not a publication usually given to accounts of workplace abuse by large and powerful corporations. There were six packing lines at Amazon's Augsburg center, each with two conveyor belts feeding tables where the packers stood and did the packing. The first conveyor belt fed the table with goods stored in boxes, and the second carried the goods away in sealed packages ready for distribution by UPS, FedEx, and their German counterparts.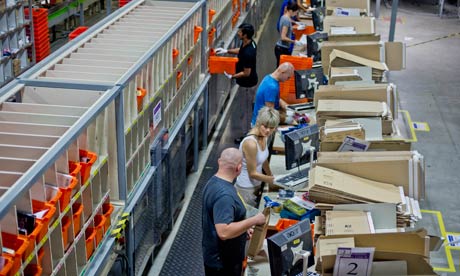 Image Source: Sarah Lee, The Guardian
Machines measured whether the packers were meeting their targets for output per hour and whether the finished packages met their targets for weight and so had been packed "the one best way
.
" But alongside these digital controls there was a team of Taylor's "functional foremen," overseers in the full nineteenth-century sense of the term, watching the employees every second to ensure that there was no "time theft," in the language of Walmart. On the packing lines there were six such foremen, one known in Amazonspeak as a "coworker" and above him five "leads," whose collective task was to make sure that the line kept moving. Workers would be reprimanded for speaking to one another or for pausing to catch their breath (
Verschnaufpause
) after an especially tough packing job.
...
A significant portion of the article has been reposted here. There's more. You can read the entire article by clicking here.
Note: It is not hard to find other articles critical of worker conditions at Amazon.com. The book, Mindless, written by Simon Head and from which this is excerpted, focuses at least in part on abuses such as these. You can read a short but excellent review of that book, by clicking here. A quote from the review:
[Head] argues that ... computerized management programs that Amazon and other large organizations use to measure everything that happens in factories, warehouses and depots—are turning workers into "digital chain gang" members who work harder and earn less. Once limited to tracking blue-collar productivity, CBSs now engulf much of the white-collar world, where they control the complex work of physicians, teachers and others in the professional and administrative middle class.
-Submitted by Gareth